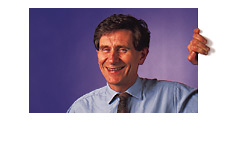 The overriding aim of your board and management is to deliver better and more consistent results for Pearson. In 1997, we reported progress. For 1998, we've taken another step in that right direction. Adjusted earnings were up 20%, and based on this, the board recommends a dividend of 21p, up 8% over last year.
In spite of a few scares, a generally benign economic environment in our major markets helped. But our progress has been due mostly to the creative and commercial talents of our people. We are achieving better results because our management have the confidence to set both more adventurous strategic goals and more demanding financial targets, and all the people who work in Pearson have the ability and motivation to meet them.
We have continued to rationalise and reshape Pearson. As a result, computer games, consumer magazines and theme parks no longer figure in our future. Our television, consumer publishing and business information operations are all using their stronger market positions to launch themselves in new directions. And we've made by far the largest single investment in Pearson's history to create the world's leading education business. The integration of the Simon & Schuster businesses is the most complex – and potentially rewarding – project we've ever undertaken.
As a result of all this activity, the company described in this report is very different from the Pearson of two years ago, even the Pearson of one year ago. Consequently, the value of the Company and the future expectations of our shareholders are both much greater than they were a year ago.
If we are to meet our shareholders' expectations we must ensure that we are able to retain the outstanding managers who have created the success and indeed recruit more of the same. The majority of our top executives work outside the UK and their current compensation is uncompetitive on an international basis.
At this year's AGM, therefore, we will be proposing a new approach to the long-term incentivisation of our senior managers which is consistent with our overall compensation approach. The details are set out in the circular to shareholders which accompanies this report. In principle, we are proposing a scheme which will ensure that if our management produce outstanding performance, they will earn rather more than under the current scheme. They will get these rewards, however, only if they deliver exceptional benefit to shareholders.
This was a good year for Pearson. We delivered good results, and we made progress toward creating better results more consistently. These results are the work of more than 20,000 Pearson colleagues who work in over 50 countries around the world. The board thanks them for their success and welcomes the fact that, through the new Company-wide bonus and share ownership plans we have introduced, they all now have the chance of a much more direct benefit from Pearson's future success. That keeps us all going in the same direction.